BHT 2000 Pro Plus
The BHT 2000 Pro Plus™️ Swim Spa reviews speak for themselves. Customers consistently compliment us after testing and especially after purchase that our swim spas are much more powerful and a more realistic swimming experience than other swim spas and indeed, better than they'd ever expected.

We've discovered that swimming against a counter current is NOT a man Vs power. It is a test of endurance and an experience in which every swimmer has to manage their stamina and ability Vs the potential flow and symmetry of the current.

Our swim spas have been designed using this exact science - to create the strongest swim spa counter current and to replicate the real experience of exercising or swimming against a resistant jet stream of water. We call these the science of Aquanomics.

Through over 15 years of research, we have discovered the solution to the swim spas Aquanomics algorithm and we invite you to experience our designs and put our swim spas to the test.



Our British Swim Spa range has the best possible winter insulation, with additional integrated floor insulation, as well as thermal insulation panels on the outer walls for sustainable operation without heat loss and high heating costs - we've aimed for an RV-Value of 19.

Put simply, our British Swim Spa range has been built specifically for the UK climate and for customers intending to benefit from aquatic exercise form the comfort and privacy of their own home.



The BHT 2000 Pro Plus™️ comes prepared for operation via a heat pump or heat exchanger, and the corresponding bypass components are pre-installed for clients wishing to utilise more economic heating solutions.

Within every British Swim Spa, we've added stand up massage and warm down stations, buoyancy jets, internal access non-slip steps, an anti slip floor and warm down massage seats.



The BHT 2000 Pro Plus™️ comes with 6 swimming jets and 38 strategically placed massage jets.

All of our jets have individual controls to control the counter current flow to be tailor made to your individual requirements.

Our VibroZone™️ surround sound system music system is included and all British Swim Spas with Bluetooth music are also installed with a WiFi connectivity option to connect to a Smartphone to control your hot tub through cloud technology.

We've also included our Glow Zone™️ lit waterfalls, photo sensor controlled cabinet lighting and colour changing perimeter and underwater lights which create an ambience of fun, flow and fantastic visual effects.

We won't ask you to overpay for features or gimmicks which you definitely won't need and certainly will not use!

So there is no infinity edge - which we found dramatically cooled down the water temperature.

No swimming side by side - as if this was even possible?

No swim spa massage seats for non exercising guests - who always found the water too cold and never sat in the swim spa to watch anyone exercising!



We've kept everything real and relative:

We have given you a realistic swimming counter current.

Plenty of room to swim.

Effective cool down stations which target all of your key and most bused muscle groups.

Easy to manage water quality with our Clear Zone Technology.

Low running costs, so you use your aquatic exercise machine all year round.

Quality and reliable structure, fittings and components.

The best insurance backed guarantees and warranties with UK trained and qualified technicians.

An affordable price for a purchase that we hope you and your family use your whole lifetime.
| | |
| --- | --- |
| Seating Capacity | 4 Adults |
| Jets | 38 |
| Dimensions | 500 x 225 x 152 cm |
| Pumps | 7 |
| Estimated Monthly Running Cost | £ 28* |
FINANCE FROM
£384 pcm
from 10% minimum deposit
FINANCE OPTIONS
Buy Now Pay 2021
0% Finance
Low APR Finance
FULL SPECIFICATION
Specifications
| | |
| --- | --- |
| Seating Capacity | 4 Adults |
| Jets | 38 |
| Dimensions | 500 x 225 x 152 cm |
| Pumps | 7 |
| Weight Dry | 900 kg |
| Volume | 4000 Litres |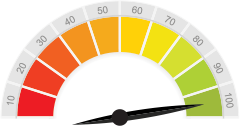 ESTIMATED MONTHLY RUNNING COST
£ 28*
* Energy usage is estimated using average global energy rates and based on swim spas with average filtration cycles and common daily usage. For general reference only. Spa equipment, features, upgrades, environment, insulation variations along with duration/frequency-of-use can alter provided estimated energy costs.
Features
| | |
| --- | --- |
| | |
| Pure White, Pearlescent OR Silver White Marble Shell Colour | |
| Grey OR Brown Vinyl Cabinet | |
| Grey OR Brown Eco Zone Heat Saving Cover | |
| Balboa Filtration | |
| Balboa Easy Use Touchscreen Topside Control | |
| Pure Zone (UV Ozone Purification System) | |
| Glow Zone - Underwater & Perimeter Colour Changing Lighting | |
| Eco Zone Foam Insulation | |
| Water Features | |
| Ergonomic Seating | |
| Massage Zones | |
| Stainless Steel Recessed Adjustable Massage Jets | |
| High Performance LX Pumps | |
| Stainless Steel Water & Air Diverters | |
| Quick Drain Release Valve | |
| Solid Zone (Pressure Treated Frame + ABS Waterproof Base) | |
| Aristech™️ Acrylic | |
| Screw Easy Access Weatherproof Cabinets | |
| Freeze Protection | |
| Easy Access Super Sealed Plumbing | |
| Titanium Heater | |
| ISO Quality Check | |
| | OPTION |
| Aromatherapy Injector | OPTION |
| Clean Zone (Inline Sanitation System) | OPTION |
| Smart Swim Watch | OPTION |
| Heat Pump Ready & Pack 2 | OPTION |
| WiFi Ready & App | OPTION |
| Vibro Zone Plus - Bluetooth, AUX, USB, Radio Unit with 4 Waterproof Speakers + Subwoofer with Waterproof Remote Control | OPTION |
| Cover Lifter | OPTION |
| 4 Tier Swim Spa Steps | OPTION |
| Swim Spa Delivery and Installation | OPTION |